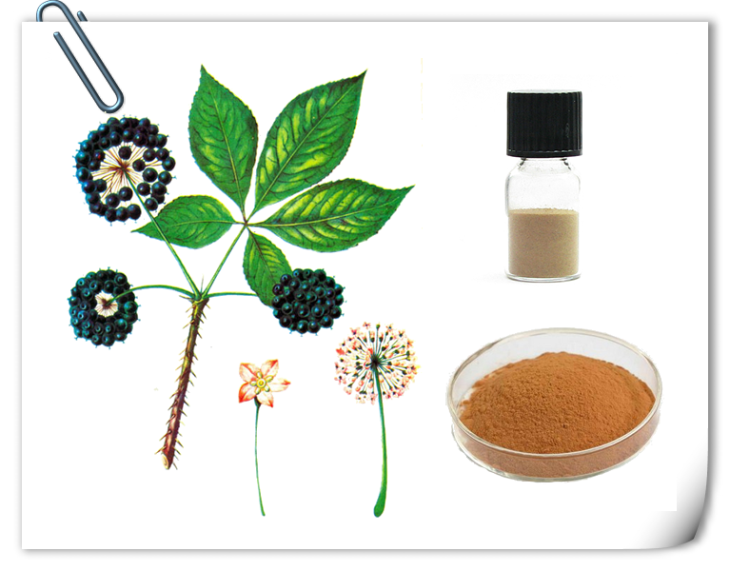 Add to Favorites
Share
Siberian Ginseng Extract
Payment

Origin

China Mainland

Minimum Order

15

Packing

Pieces
Product Detail
Siberian Ginseng Extract Eleutheroside B+E Powder

Siberian ginseng (Eleutherococcus senticosus),belongs to Araliaceae,also know as eleuthero,has been used for centurries in Easten countries,including China and Russia.Despite its name,it is completely different from American (Panax quinquefolius) asn Asian ginseng (Panax ginseng),and has different active chemical components & functions.

Siberian ginseng includes Elentheroside A, B, C, D.E, F, G, polysaccharide & isoflavonoid.The root contains 0.6-0.9% elentheroside, stem contains 0.6-1.5% elentheroside.The mainly key ingredients are Elentheroside B+E,are thought to stimulate the immune system.

1, Latin Name: Acanthopanax senticosus

2, Part used: Stem & Root

3, Active ingredients: Eleutherosides (yellow brown powder)

4, Specification: Eleutherosides B+E 0.8%, 1.2%, 1.5% HPLC

1, Anti-cancer, anti-aging &anti-bacterial

2, Stimulating the immune system, improving the blood-circulation

3, Fatigue resistance & energy restore,benefiting spleen-qi, tonifying kidney

4, Alleviating neurasthenia, increasing appetite, improving vision and hearing

5, Applied in food, pharmaceutical & cosmetic field

Our Package:

1. Aluminum foil bag: Little quantity of extraction powder packaged in a plastic bag, and with aluminum foil bag outside.Regular 1kg-10kg per bag.

2. Cardboard drum: Bulk weight packaged in double plastic bag with a cardboard drum outside. Regular 25kg-28kg per drum.

Our Service:

1. About shipping method: DHL / EMS / UPS / FedEx / TNT / Air Cargo.
2. About payment method: T/T,Western Union,PayPal,Credit Card and Cash etc.
3. About QC: All goods will be inspected before shipment.
4. About OEM service: OEM orders are acceptable as your requirement.

5. About delivery time: Normally, it will take 3 working days from China to destination country.
3
YRS
Xi'an Day Natural Inc
China
Favorites