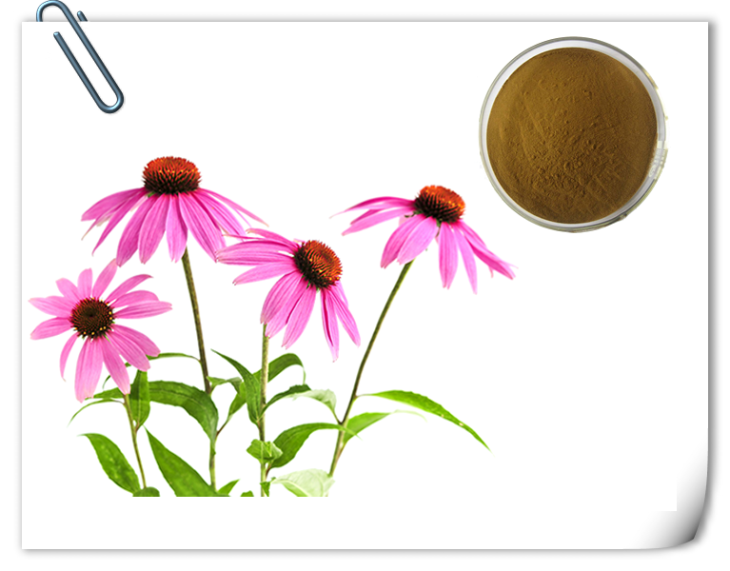 Add to Favorites
Share
Echinacea Powder
Payment

Origin

China Mainland

Minimum Order

1

Packing

Pieces
Product Detail
Product Name: Echinacea Extract

Specification: HPLC 1%, 2%, 4%( Cihicory Acid)

UV = 4%( Polyphenols)

10:1

Echinacea is a genus, or group of herbaceous flowering plants in daisy family, Asteracea. The nine species it contains are commonly called coneflowers. They are endemic to eastern and central North America, where they are found growing in moist to dry prairies and open wooded areas. They have large, showy heads of composite flowers, blooming from early to late summer. The generic name is derived from the Greek word ?????? (e chino), meaning "sea urchin," due to the spiny central disk.Some species are used in herbal medicines and some are cultivated in gardens for their showy flowers. A few species are of conservation concern.

Echinacea species are herbaceous, drought tolerant perennial plants growing up to (140 cm or possibly 4 feet, reference needed) in height. They grow from taproots except E. purpurea, which grows from a short caudex with fibrous roots.

They have erect stems that in most species are unbranched. Both the basal and cauline leaves are arranged alternately. The leaves are normally hairy with a rough texture, having uniseriate trichomes(1-4 rings of cells) but sometimes they lack hairs. The basal leaves and the lower stem leaves have petioles, and as the leaves progress up the stem the petioles often decrease in length.




Echinacea extract can improve the activity of macrophages, the bacteria, viruses or other source of infection or cancer cell killing is greatly enhanced; also can promote the generation of interferon, which help the body fight the virus attacks, such as colds and flu.Most notably, Echinacea can enhance in the vitality of a kind of immune cell——NK(Natural Killer). Early onset, add Echinacea preparations for improving effect of cold, cough, have strep throat obvious. Clinical experiments show that, the effect of 4 grams or 1 teaspoons of Echinacea pulp inflammation is equivalent to 100 mg cortisone. The German study, Echinacea enhancement of macrophage activity and increase the number of immune cells in the whole role helps prevent inflammation caused by Candida infection.

1,Part Used: Whole herb

2,Form: Brown Yellow Powder

3,Active ingredients: Cihicory Acid, Polyphenols

4,Specification: HPLC 1%, 2%, 4%( Cihicory Acid)

UV = 4%( Polyphenols)

10:1

1. Echinacea is widely used to fight infections, especially the common cold and other upper respiratory infections.

2. Echinacea is also used against many other infections including the flu, urinary tract infections, vaginal yeast infections, genital herpes, bloodstream infections (septicemia), gum disease, tonsillitis, streptococcus infections, syphilis, typhoid, malaria, and diphtheria.

3. Other uses not related to infection include chronic fatigue syndrome (CFS), rheumatism, migraines, acid indigestion, pain, dizziness, rattlesnake bites, and attention deficit-hyperactivity disorder (ADHD).

4. Sometimes people apply echinacea to their skin to treat boils, abscesses, skin wounds, ulcers, burns, eczema, psoriasis, UV radiation skin damage, herpes simplex, bee stings, and hemorrhoids.

When taken by mouth, echinacea usually does not cause side effects. However, some people experience allergic reactions, including rashes, increased asthma, and anaphylaxis (a life-threatening allergic reaction). In clinical trials, gastrointestinal side effects were most common.Also, people with asthma or atopy (a genetic tendency toward allergic reactions) may be more likely to have an allergic reaction when taking echinacea.

Extract strength varies, so following manufacturers' directions is important Recommended amounts range from one to five dropperful per use (0.5-5 ml.) three times per day.Capsules or tablets:may contain root powder or herb. Recommended usage level: 1/2 - 2 g per use three times a day.

Adult, For general immune system stimulation, during colds, flu, upper respiratory tract infections, or bladder infections, choose from the following forms and take 3 times a day until you feel better, but not for more than 7 - 10 days: 2 - 3 ml of standardized tincture extract; 6 - 9 ml of expressed juice (succus); 300 mg of standardized, powdered extract containing 4% phenolics; Tincture (1:5): 1 - 3 ml (20 - 90 drops); Stabilized fresh extract: 0.75 ml (15 - 23 drops).

Echinacea purpurea combines very well with Turmeric and Ginger (prevention of winter illnesses protection of the immune system protection of the immune system, protection from chronic respiratory infections, blood purification)but also with Garlic(powerful shield against germs, bacteria parasites, fungus…)Ginseng Maca and Rhodiola (stimulates the immune system, restores strength energy and libido),Chlorella and Spirulina(detoxifies and nourishes the body, stimulates the immune system, protects and purifies the different organs),Royal Jelly and Propolis (immune system, flu, angina, fatigue, protection against infections).

Our Package:

1.Aluminum foil bag: Little quantity of extracttion powder packeage in a plastic bsg and with aluminum foil bag outside.Regular 1kg-10kg per bag.

2.Cardboard drum: Bulk weight packed in double plastic bag with a cardboard drum outside.Regular 25kg-28kg per drum.

1.Free sample(10-20g or enough to detection) and unconditional assume response

2.100% natural product, without any synthesize ingredient

3.Manufacturer direct supply, provide OEM, R&D service

4.Competitive price

5.Fast delivery.
3
YRS
Xi'an Day Natural Inc
China
Favorites